IMAX Born to be Wild 3D
- narrated by Morgan Freeman -
Watch the trailer for Born to be Wild 3D

Born to be Wild 3D is a beautiful and heart-warming film, stunningly captured in IMAX 3D, documenting orphaned elephants and orangutans and the people who rescue and raise them. Transporting movie goers into the rugged Kenyan savannah with celebrated elephant authority Dame Daphne Sheldrick, and into the rainforests of Borneo with primatologist Dr Biruté Galdikas.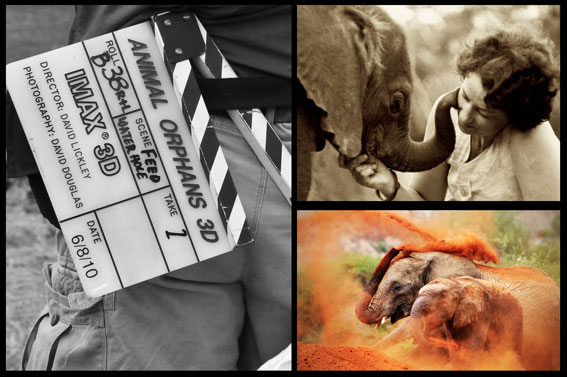 Released in 2011, the multi award winning Born to be Wild 3D is currently showing Exclusively at IMAX Theatres across the globe. Getting you as close to the action as it's possible to be, without actually being out in the bush with the elephants.
Narrated by Academy-Award® winner Morgan Freeman, the film is an inspiring story of love, dedication and the remarkable bond between humans and animals. A bond that has been borne out in our monthly keepers' diary updates for decades, as we share with our foster parents and supporters tales from the Nairobi Nursery, and our two reintegration centres in Tsavo National Park.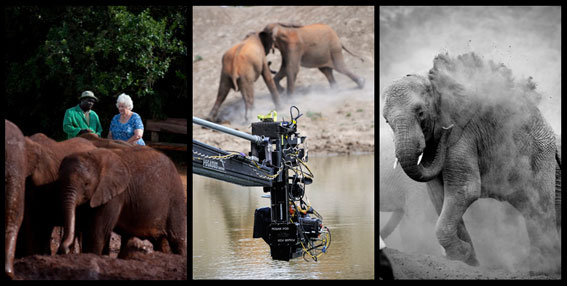 For us at the DSWT, this movie brings to the biggest of screens the planet's biggest and arguably one of its' most caring and compassionate land mammals, the African Elephant. Seriously threatened by illegal ivory poaching and ever growing human populations, we hope this movie will help to open the world's eyes to the plight facing elephants and the role we must all play to protect this flagship species.
-------
Where can you watch Born to be Wild 3D
For a list of IMAX Theatres showing Born to be Wild 3D, please visit: http://www.imax.com/movies/m/born-to-be-wild-3d
There is also a dedicated Born to be Wild 3D website, which includes video clips, downloads, educational packs and more.
More about the film and interactive features
Last, but not least, if you're a teacher, why not organise a field trip to watch the film and introduce a conservation message to your class. Teachers can further engage students by downloading Born to be Wild 3D educational materials to integrate animal awareness into the classroom for a fully immersive learning experience. Please contact your local IMAX theatre for tickets and information about special group programs.
-------
For the latest news surrounding this film and everything DSWT related, join us on Facebook today.

PRESS ENQUIRIES For all press related enquiries specific to the film, including production stills, please go to the Born to be Wild Website

For all press enquiries specific to the David Sheldrick Wildlife Trust, please contact
info@sheldrickwildlifetrust.org