An African Love Story by Dame Daphne Sheldrick
We are excited to announce the publication of Dame Daphne Sheldrick's long awaited autobiography; An African Love Story – Love, Life, and Elephants.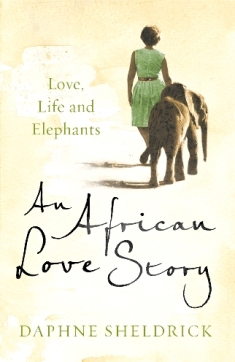 Dame Daphne's autobiography is published first in the UK, by Penguin/Viking on 1st March 2012. Subsequently Farrar, Straus & Giroux will be releasing the U.S. Edition 'Love, Life, and Elephants' on 8th May. With future country releases taking place throughout the year.
We are offering everyone the opportunity to order the book today, direct from the David Sheldrick Wildlife Trust. In the knowledge that only orders placed through the Trust will generate income for our wildlife projects in Kenya as pioneered by Dame Daphne.
To order the UK Paperback edition, which can be delivered internationally, please follow this link: https://shopuk.sheldrickwildlifetrust.org
REVIEWS
BBC Wildlife Magazine (UK)
A Tale of Two Loves
One of Africa's best-known conservationists writes about romance and living with elephants.
Daphne Sheldrick's absorbing, moving memoir is a tale of two loves. One was David, her second husband, legendary head warden of Tsavo, Kenya's biggest national park. The other was Tsavo itself, renowned for its lions, elephants, rhinos - and poachers. In the 1950s, Waliangulu bowmen were the chief culprits. But when poaching was brought under control, the elephants multiplied and scientists argued for a cull. David prevented it, but in 1970 a terrible drought killed them in their thousands. Things got worse. Later in the 1970s, Somali bandit gangs fell upon Tsavo, and in 1976 the National Park Service was merged with the corrupt Game Department. David was removed from Tsavo and died of a heart attack the following year. Daphne coped by devoting herself to caring for Tsavo's animal orphans – baby rhinos and elephants that she raised at her Nairobi nursery before returning them to the wild. Others, notably Elspeth Huxley, have written with more lyricism about growing up in Kenya. But Daphne has painted a vivid picture of an extraordinary life in the bush that will delight everyone who shares her passion for Africa.
The Telegraph (UK)
Helen Brown is enchanted by An African Love Story, Daphne Sheldrick's memoir about bringing up African elephants and gives it 5 stars. Read the Telegraph review