CONSERVATION AND DIRECT ASSISTANCE TO THE KENYA WILDLIFE SERVICE
In addition to The Orphans' Project, the De-Snaring Programme involving eight teams, the Aerial Surveillance Unit, the Saving Habitats Project, the Mobile Veterinary Project and Sky Vets, and our Community initiatives, further direct assistance to KWS includes the following:-
The DSWT has rehabilitated the Ithumba Headquarters borehole in Tsavo East National Park and provided a desalinator to address the salinity of the ground water, thereby saving a bowser having to constantly cart drinking water from Voi, which is 100 miles distant. The Trust has made a large tractor available for the Northern Area, as well as having purchased a water-bowser that can be towed behind this tractor. Our permanent mechanics periodically visit the out-stations to ensure that adequate maintenance is undertaken on all our equipment, and he also provides mechanical assistance for KWS.
For many years we have purchased fuel to keep the anti-poaching forces mobile in Tsavo, since the Kenya Wildlife Service has long suffered from a mounting budget deficit and a paucity of funds for its field stations. The Trust has also provided fuel for the vast Northern Area of Tsavo, which covers 3,000 square miles, both for anti-poaching purposes and simply to keep the Ithumba Headquarters and the Senior Warden functioning.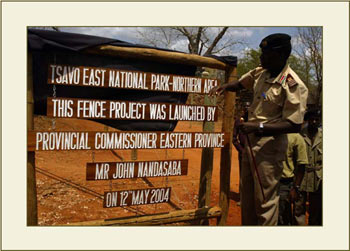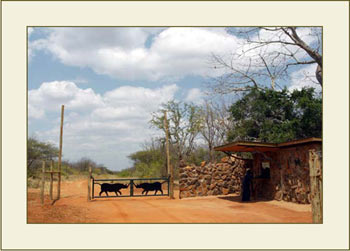 An important project has been the erection of an electric fence to secure 38 miles of the very sensitive Northern Park boundary of Tsavo East National Park, abutting the Wakamba tribal lands. The DSWT also ensures the maintenance costs of this fence through a monthly tariff paid to the Contractor. In this way the elephants are protected from becoming victims of "problem animal control", and the crops of the people are protected from the elephants. This is essential because harassment of the elephants could again drive them from the Northern Area which they abandoned en masse during the seventies, eighties and early nineties, when Tsavo's elephants endured massive poaching. They are only now just beginning to venture back.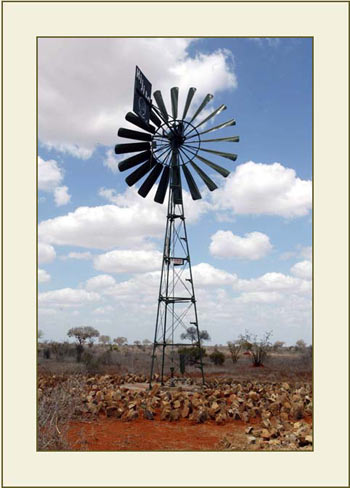 In Nairobi National Park, the DSWT ensures that the KWS always have water. We have provided the borehole pump and carry its maintenance costs. The Trust has also rehabilitated a second borehole at the East Gate to save water having to be carted from Park Headquarters whilst purchasing tyres for the Nairobi Park's Tanker. The Trust also undertook the cost of rooting out and removing the alien Prickly Pear Cactus which threatened to proliferate out of control within the Park.
With a donation of K. Shs. 1 million the Trust initiated the rehabilitation of Meru National Park's field Headquarters and then persuaded the International Fund for Animal Welfare to get involved in the rehabilitation of the entire Park, which has put Meru back on the map.
The DSWT also supported anti-poaching within Mount Kenya National Park by giving financial support for additional Rangers until the Bill Woodley Mount Kenya Trust was able to pick up the tab.