Raising Rhino Orphans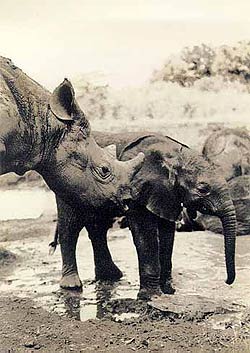 When rearing rhino orphans, it is important to:
Replace the Mother Figure with several Keepers, so that the baby will follow more than one person and will not be reliant on just one, which will lead to problems should that person have time off.
Protect the calf at night for the first three years, initially in a small stable, and later on in a spacious Stockade. Place an article of the Keeper's clothing in with the calf so that the familiar scent is there.
Bottle feed a small calf four hourly throughout the day, but not at night, the last milk feed being at 6 p.m. When the calf is older and beginning to nibble on vegetation, anchor suitable cut greens within the stable at night and also offer a bowl of bran in which minerals are mixed as further supplementation.
Walk a calf around dungpiles and urinals of the established wild community on a daily basis from dawn until dusk giving it time to investigate scent trails and contribute to the dungpiles. Allow it to eat the dung of the other animals (which all rhinos do) and which establishes the stomach bacteria needed.
Take the calf to water and a mudwallow on a hot day so that it can drink and then lie and roll in the mud. Plaster the body in soft mud, which seals moisture in the skin, protects the animal from biting insects and sun. Mud is part of good skin care in all animals that do not have fur.
Move a growing calf into a spacious Stockade at night once it has outgrown its Nursery quarters, because large animals become claustrophobic if confined too closely. Be sure to take its dung and establish a dungpile within the new quarters and also have a Keeper handy to calm the animal. Rhinos are creatures of habit and routine, and any break in the daily routine or happening is traumatic.
When the calf is 3 or 4 years old, the Stockade doors can be left open at night, so that the calf can venture out and make physical contact with the other rhinos if it so wishes, but it is important that it can return to something familiar ("Home Base") whenever it feels the need to do so. By then, it will no longer be dependent on its Keepers, but will always respond to them. For instance, when Scud, as an adult, returned home injured, only her erstwhile Nursery Attendants could handle her.