In July 2019, our Nursery matriarch Tagwa graduated to our Voi Reintegration Unit. However, this move proved short-lived for soon after her arrival in Tsavo, one of her tusks began growing askew. This caused an infection and a massive toothache, and as poor Tagwa was losing condition by the day, we chose to return her to the Nursery so she could convalesce. After more than eight months of recuperation, she was finally feeling back to her usual self and clearly ready to (re)take her next step towards a life back in the wild. So, on Monday the 11th of May 2020 — almost four years to the day since she was rescued as a tiny calf — Tagwa again made the journey to Voi.
Orphans always graduate with a friend by their side, and we could think of no better sidekick than Tamiyoi. While Tagwa was the undisputed leader of the Nursery herd, Tamiyoi served as her second-in-command — and, arguably, her more nurturing counterpart, as Tagwa could be quite a strict matriarch! While the younger orphans will most certainly miss their leaders, we must consider the welfare of every individual, and both girls were clearly ready for the stimulus and input of the older elephants in Tsavo. Meanwhile, the Nursery herd will be left under the very able leadership of Maisha and Nabulu, who are now the most senior girls in Nairobi.
Proceedings began in the very early hours of Monday morning. The set-up obviously reminded Tagwa of her first journey a year ago, and she was a bit reluctant to walk onto the elephant moving lorry. A bottle of milk presented just the encouragement she needed, and she was soon safely on-board. Tamiyoi followed without protest, clearly comforted by the fact that she could see and interact with Tagwa in the neighboring compartment. Peter, a Keeper whom they have both known since their infancy, made sure both girls had everything they needed throughout the journey.

Covid-19 dictates nearly every aspect of life at the moment, and carrying out a graduation amidst the pandemic took some careful planning. We were fortunate indeed to have the support of the Kenya Wildlife Service, who escorted the convoy to ensure there were no delays along the way. At 3:20 am, Tagwa and Tamiyoi closed their chapter at the Nursery as they hit the open road. There were very few lorries or vehicles en route, so after a smooth five-hour journey, the convoy arrived at Voi.

Angela and Robert, along with the Voi Keepers, were eagerly standing by waiting their arrival in Voi. As the lorry doors opened, two bewildered elephants looked out from their compartments. For Tagwa, who was experiencing her second-go-round at graduation, the whole experience must have been deja vu. Strangely, however, Tamiyoi was the calmer of the two. Mbegu and her mini herd of Godoma, Ngilai, Ndotto, Murit, Lasayen and Emoli immediately sped down to greet the new arrivals. Tamiyoi and Tagwa know this cast of characters from their Nursery days, and so it was a very happy reunion for most — but not all! Emoli, who has apparently gotten used to being the darling of the Voi herd, strongly objected to the newcomers and screamed his displeasure for well over an hour. Lasayen more than made up for his friend's rudeness and fronted the welcoming party, paying special attention to each girl.

After quenching their thirst, the group headed out to browse. This was a particularly exciting development for Tamiyoi. She couldn't believe the bounty of new vegetation and immediately tucked in, feasting on the grass and creepers. The herd slowly made their way around the Msinga Hill and down to their midday mud bath. Both girls were constantly crowded by the others; everyone wanted to lay claim to the newcomers, and Ndotto made a particular nuisance of himself in all his enthusiasm. Peter, their Nursery Keeper, was there to restore order and they certainly relied on his comforting presence while they took it all in. It is very hot in Tsavo at the moment and Tagwa, who was definitely feeling the heat, took a little nap with her head leaning on Peter. Wild herds ambled by throughout the day, which must have been thrilling for Tamiyoi in particular, as she was rescued at such a young age that the sight of full-grown elephants is a completely foreign one to her.
Today was doubly special because seven-year-old Mashariki, who left unexpectedly with a wild herd nearly a month ago, arrived back to the Voi stockades this very morning in the company of Tundani, Nelion, and Ishaq-B. Mashariki was extremely excited to meet the new arrivals, and no doubt had missed all her younger friends, so she chose to remain with the dependent herd rather than peel off with the older independent orphans.

On days like these, we must step back and marvel at how far these elephants have come. Tagwa was rescued when she was just seven months old, after she was found wandering alone on community lands. Tamiyoi was just an infant when she fell down a well in Samburu. Over the past four years, we have seen both girls blossom from vulnerable, blanket-clad babies into confident, nurturing elephants. At Voi, they will over time forge important friendships with our older orphans and their wild friends, and it is these friendships that will eventually guide them into a successful independent life. This is a very gradual process, however, and they will remain dependent on their milk and Keepers for many years to come. In the meantime, we hope you join us in celebrating this major milestone for Tamiyoi and Tagwa.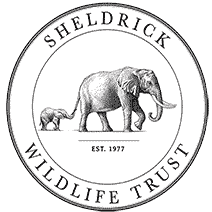 Learn more about the adoption program
Adopt an orphan and contribute to the life saving Orphan's Project helping orphans like Tagwa and Tamiyoi
Click here