The David Sheldrick Wildlife Trust's Elephant Orphan Archive
Latest Updates:
Elephant Orphans hand-reared from infancy
The following is a list of the archived Elephants Orphans reared from infancy by the David Sheldrick Wildlife Trust:
| | | | | | | | |
| --- | --- | --- | --- | --- | --- | --- | --- |
| Name | Gender | Date Born | Location Found | Age on Arrival | Comments | Reason for being Orphaned | Options |
| MERRU | Male | Tuesday, December 5, 2017 | Imenti Forest; Meru Region | 9 Months | Found in a deep quarry with no other elephants around and in distress | Human / Wildlife Conflict | More |
| KILI | Male | Wednesday, August 13, 2014 | Amboseli National Park | One week | Found on his own | Reason Unknown | More |
| SIMOTUA | Male | Friday, June 20, 2014 | Rumuruti Forest | One year old | Found in the Rumuruti Forest in a weak condition with a snare wound on the leg and a spear wound to the head | Poaching | More |
| ASHAKA | Female | Thursday, October 10, 2013 | Manyani - Tsavo East National Park | 3 Weeks old | Found stuck in a drying waterhole by members of the Kenya Wildlife Service Manyani Ranger Training Academy | Stuck in Mud | More |
| SOKOTEI | Male | Wednesday, October 2, 2013 | Samburu National Reserve | Approximately 5-6 months | Rescued after his mother's tragic death | Natural Causes | More |
| SHUJAA | Male | Thursday, August 29, 2013 | Near Mackinnon Road beyond Buchuma gate | One month old | Found wandering alone following anyone he could find | Reason Unknown | More |
| AJABU | Female | Wednesday, April 3, 2013 | Msinga Hill - Tsavo East National Park | Estimated to be as young as just a day old | Found 3 kilometers from Masinga Hill following tour vans, fate of mother and herd unknown | Reason Unknown | More |
| RUKINGA | Male | Tuesday, September 4, 2012 | Seen alone near a waterhole on Mgeno Ranch | Approximately 3 weeks old | He was seen on his own by an anti-poaching team while on patrol on Mgeno Ranch | Reason Unknown | More |
| KINANGO | Male | Sunday, August 5, 2012 | Along the Kwale- Kinango road | 3-4 weeks old | He was stranded, hungry and visibly stressed when found walking along the Kwale-Kinango road near the Mwadabawa junction seeking comfort under an abandoned truck | Poaching | More |
| LORIAN | Male | Wednesday, June 6, 2012 | He lost his mother while his herd was driven off a farm near Rumuruti Forest | About 3 weeks | After being orphaned he strayed into a nearby village who alerted the KWS | Man Made Cause for Separation | More |
| ASANJE | Female | Saturday, April 7, 2012 | Cotters 1920's Camp in the Masai Mara | 18 months old | First reported by the Masai community near the Masai Mara Game Reserve. She later arrived remained near the waterhole at Cotters 1920's Camp in the Masai Mara. | Reason Unknown | More |
| SORKA | Female | Saturday, March 3, 2012 | Satao | Two and a half years old | Found alone near Satao camp | Reason Unknown | More |
| MARALAL | Female | Thursday, February 2, 2012 | near Kirisia Forest, Northern Kenya | About 2 months | She was found by the community members having fallen down a man-made well | Well Victim | More |
| BALGUDA | Male | Monday, December 5, 2011 | Seen by Tour Operators near Kanderi in Tsavo East National Park | About 6-7 months old | Was seen very distressed on his own, our Voi Keepers were called and came to rescue the orphan | Reason Unknown | More |
| KWALE | Male | Friday, November 4, 2011 | Nyalani Kwale - Shimba Hills | 10 Months | Trapped in a man made well | Well Victim | More |
| SASAB | Male | Tuesday, October 25, 2011 | Samburu - West Gate Community Conservancy | Two weeks | Got washed down the Ewaso Niro River | Natural Causes | More |
| NYIKA | Male | Thursday, September 29, 2011 | Taita Hills Sanctuary | 10 Months | Found wandering alone | Poaching | More |
| MUMBUSHI | Male | Thursday, May 12, 2011 | Mount Kenya | Approximately 2 months old | He was found alone and injured by a cattle herder in the Mt. Kenya forest near the Hombe river. | Poaching | More |
| WASIN | Female | Saturday, October 9, 2010 | The Namunyak Conservation Area | Approximately 1 week old | She was rescued by Samburu elders from the mud of a shallow well | Stuck in Mud | More |
| TANO | Female | Tuesday, May 5, 2009 | Loisaba ranch - Laikipia | 2 and a half months | Found on her own at | Poaching | More |
| KUDUP | Female | Sunday, April 12, 2009 | The Milgis Lugga - Northern Kenya | Approximately 4 weeks old | Found trapped in a well in the Milgis Lugga and rescued just before flood waters came down | Man Made Cause for Separation | More |
| SALAITA | Male | Monday, September 15, 2008 | Ziwami Area - Tsavo West National Park | Approximately a two year old calf | He was discovered abandoned with no trace of elephants in the area | Reason Unknown | More |
| SABACHI | Male | Tuesday, September 2, 2008 | Namunyak Wildlife Conservation Area | Approximately 5 months old | He was discovered by Aden the gardener when he walked into the grounds of Serara Lodge, | Man Made Cause for Separation | More |
| DIDA | Female | Monday, September 3, 2007 | Outside the boundary of Tsavo East National Park south of Buchuma Gate | approximately 4 weeks | This little calf was rescued having fallen down a man hole on the Mzima Springs waterpipeline | Man Made Cause for Separation | More |
| SHIMBA | Male | Tuesday, August 29, 2006 | Northern Area, Tsavo East | Six weeks old | Orphaned when his ailing mother died | Sick Mother | More |
| NDOMOT | Male | October 2003 | Ol Donyo Nyiro | 6 Weeks | Fell into a well dug by tribesmen in a sand lugga at Oldonyo Nyiro | Man Made Cause for Separation | More |
| SELENGAI | Female | Saturday, March 15, 2003 | Sosian Ranch Laikipia | 1 Week old | Found wondering alone on one of the ranch tracks, fate of mother is unknown | Natural Causes | More |
| OL MALO | Female | January 2003 | Olmalo Laikipia | 4 Months Old | Thought to be a victim of poaching in Laikipia | Poaching | More |
| MWEIGA | Female | October 1998 | Aberdares / Mweiga | 7 months old | Herd driven out of a settlement in Mweiga where she was left behind | Problem Animal Control | More |
| LOISABA | Female | January 1998 | Loisaba/Laikipia district | 2 Years old | Mother was poached for her ivory on Loisaba rance | Poaching | More |
IN THE BEGINNING - THE FIRST ORPHAN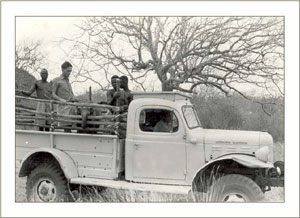 The year was l954, and a particularly dry one, when the 5,000 square mile Tsavo East National Park, proclaimed by an official Gazette Notice in 1949, was just five years old. The Park's fledgeling infrastructure still in the process of creation by its first Warden, David Sheldrick who had dammed the seasonal Voi River in 1952, creating a man-made lake called Aruba (the Mliangulu word for "elephant"). By providing a permanent source of water in an arid region of 5,000 square miles, served by only two permanent rivers, and prone to drought conditions, the presence of Aruba relieved the pressure on these two rivers during dry seasons, and spread the impact of elephants on the riverine vegetation. In those days Tsavo harboured some 8,000 territorial Black Rhinos, who were dependent on this resource. Furthermore, a congenial outlook for the Park's very first visitor facility in the mainly flat, hot, landscape of Tsavo East was also needed within easy reach of the main Nairobi – Mombasa road. On the shoreline of this man-made lake six thatched self-help bandas had been constructed in 1952, and the Aruba Safari Lodge came into being, even though overseas tourists in those days were non-existent, and the only visitors were usually local residents on their way to or from the Coast.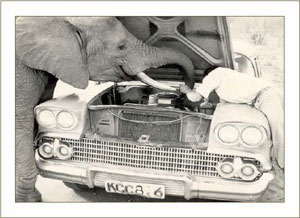 By mid June of 1954 Tsavo's elephant population was already under severe pressure from drought. (Unbeknownst to the early Park officials of the day, who had no access to aerial surveillance, the elephant population then comprised of at least 45,000 animals in the Park ecosystem of l6,000 square miles, (double the area of the Park itself), with elephant numbers within the Park itself rising due to immigration from outlying areas in response to bow and arrow poaching and an expanding human population). The elephants that were reliant on Aruba for water had to travel long distances in search of food, and the visitors at the Lodge watched, helplessly, as little groups of elephants walked wearily through the parched land, their prominent hip bones and sunken cheeks evidence of the dry season's toll and the elephants' desperate struggle for survival in a marginal environment. Being top of the Herbivore Food chain, Nature has deliberately made the largest land mammal essentially fragile, so it is the elephants, that are the first to feel the affects of food deprivation, when all the other herbivores, who are mainly ruminants with a more efficient digestive system, remain healthy. Because of this, the elephant is the first to go when times are tough, anchored by the inability of weakened young to move long distances from permanent water in search of food and relieved only when rain fills the natural waterholes further inland to enable them to migrate inland to more productive pasture-lands. (Nature does not permit irreparable damage to the environment by any species indigenous to the ecosystem, but, by design, however, the elephant is the agent that triggers the natural long-term vegetational cycles that alternate between woodland and grassland regimes, which enable both browsers and grazers to multiply when conditions suit their needs.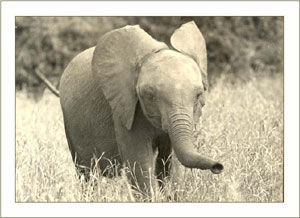 During the dry season of 1954, when the elephant population was so high, visitors at the Aruba Safari Lodge watched an exhausted baby, undernourished and feeble, lagging behind the herd, and the distressed elephant Mother pausing to allow it to catch up. Hot, tired and thirsty, the elephants hurried across the last few hundred yards to the water's edge, reaching out trunks to quench their burning thirst, and then allowing themselves a brief respite, laying down in the cool waters of the lake, or spraying water over their aching bodies with their trunks. However, survival necessitated that they could not linger long for the quest for sufficient food to keep them going was paramount. On that day the exhausted baby refused to leave, and eventually the Matriarch had to make the heart-rending decision to abandon the baby in the interest of the others. Its distraught mother remained behind for a long time, pleading with her calf to follow, but eventually even she had to give up and leave. And that is how the first orphaned elephant, named "Samson", came into the care of David Sheldrick all those years ago, in 1954.
His chances of survival were nil, since lions and other predators also frequented the lake, but he managed to survive two nights before the visitors at the Lodge could bare to stand by and watch no longer, human compassion (a noble emotion also shared by elephants), of which no caring person should be ashamed. Amongst the visitors that day was the famous pioneer Documentary Film maker, Armand Denis, and his cameraman, Des Bartlett, who became famous in his own right for the sensitive and beautiful environmental documentaries he later gave to the world. They drove to Park Headquarters near Voi to alert the Warden, David Sheldrick, about the orphaned calf and since all Kenya's first pioneer Wardens were accomplished Naturalists liberally endowed with compassion and a humane ethic themselves, there was no question of standing by and "letting Nature takes its course".
David set forth immediately to assist the orphaned calf that had fallen on hard times, for it was his conviction that if a custodian of the wild was able to relieve the suffering of an individual animal, irrespective of species, and if that animal ultimately had a chance of leading a quality of life in wild terms, it was part of a Warden's duty to intervene. Sheltering behind the slogan of "letting Nature take its course" was, to his mind, simply a cowardly and lazy excuse for remaining emotionally detached and doing nothing to help. For him, this was not an option.
Having seen the calf, and decided that it was of a size that could be physically overpowered and captured without risking serious injury, David decided that it be rescued and an attempt made to hand-rear it with a view to ultimately returning it when grown where it rightly belonged – the wild community, something that had hitherto never been either attempted or accomplished. He called for volunteers from the labour gang at the lodge to help him capture the elephant, something that met with a deafening silence, since the labour gang was comprised of local agriculturalist tribesmen from the Taita community, all of whom viewed a wild animal as a threat to life and limb. Six of the tougher looking types were therefore ordered to help by stalking the calf without being seen, and when within range, at a given signal from David, rush in together and overpower it. On hand to document this historic event was Des Bartlett, the result now a video that rests amongst the Trust's other archival films.
Unfortunately, however, the capture did not go as David had envisaged, for at the given signal, David, having seized the elephant by the tail, found himself alone, being hurled around whilst the six stalwarts remained nervously some 20 yards off, poised for instant flight! Shouts and threats soon galvanized them into action, and they managed to swarm around the rear end of the bellowing calf which enabled David to leave his grip of the tail and move up front. The worst fears of one brave who attempted to follow suit were realised when he hesitated and found himself knocked to the ground and soundly pummelled by the elephant baby, who, although emaciated and weak, still had enough strength to do some damage! It took some eight men about l0 minutes to finally subdue the calf, who had put up such a spirited struggle that he earned the name, "Samson", on the spot.
Once Samson was down, and his legs roped together, he was loaded into the back of a vehicle and taken to the Headquarters near Voi, where the ticket office at the main entrance gate was hastily converted into a temporary stable. Two Rangers were detailed to stay with him overnight, tempting him with hand-picked greens offered through the ticket office's hatch window and visitors to the Park that evening and the next day were surprised to be allowed free entry, since the Rangers on duty dare not venture into the office that housed a very wild baby elephant. David estimated Samson's age to be just under two, and although he was extremely aggressive, charging anyone who appeared at the window, he nevertheless snatched the green food plants offered through the hatch hungrily during the course of that first night, and disposed of a great quantity.
The next day, having marked out the lay-out of Samson's proposed new quarters behind the Warden's house, and initiated construction, David made a determined effort to tame the calf. It must be remembered that in those days there was no such thing as a Vet in Voi, and tranquilizers and sedatives for veterinary use were not easily available. David entered the stable alone, and immediately found himself pinned against the wall. He retaliated with a hard punch to the top of Samson's trunk, which seemed to puzzle the elephant and prompted a retreat to the far corner. David then advanced slowly, speaking softly and holding out a succulent plant as a peace offering. Each time the elephant responded with aggression, he found himself again punched hard, an act that was accompanied by an angry "No", but when the calf didn't, he was touched gently around the mouth, reminiscent of an elephant greeting, and handed a peace offering. Very quickly he realised that aggressive behaviour did not pay, and that the odd creature that faced him could not be intimidated and simply wanted to be a friend. Within just a few hours of that same day, Samson was completely docile and could be easily handled, although David emerged somewhat battered and bruised!
Samson measured 3 ft. 7 3/4 inches at the shoulder, and within two days could be taken out of the Ticket Office, during the day, happy to browse close by with a Ranger in attendance. Already he had become extremely attached to David, greeting him with a loving rumble whenever he appeared, and running up to wrap a trunk around his neck. It was David he followed and who led him up the hill to his new abode once his new quarters had been completed. (Samson's erstwhile stable is still in use today, 50 years later, albeit not housing an elephant, but a place where the milk for the current orphans is mixed and stored).
Samson's Night stable led into an enclosure where there was a sturdy tree, an enticing mudwallow, fresh clean water, and a mountain of cut food plants awaiting him. Every morning early, having been let out of his night quarters, he spent time in this enclosure, awaiting the arrival of the day's detailed Attendant who would escort him down the hill to the lush vegetation of the Voi river. There he browsed at will, cooling himself at noon in a man-made mudwallow beside the river after which an enticing mountain of red soil brought by the Park tractor provided him with a pleasing powdery red dust-bath. Upon his return each evening, his night rations were stacked in a corner of his stable, so he lacked just one thing – the company of another elephant.
Under this routine he thrived, and within a month, he had grown half an inch. He responded to his name and remained particularly attached to David, who always found the time to spend with him each day, despite his very busy schedule, something he found a fascinating experience, for his quest for knowledge and understanding was profound. Through Samson, and the other early orphans that followed, David Sheldrick knew the elephant mind, the sophisticated body and audible language of elephants, their mysterious means of communication over distance, their food preferences, their loving and gentle nature, and the nature of their physiology – for instance, how long it took an orange to pass through the digestive tract, the amount of vegetation consumed in a day, and the amazing dexterity of the trunk. David Sheldrick knew all this long before the first Scientist set foot in Tsavo and decided to try and find out.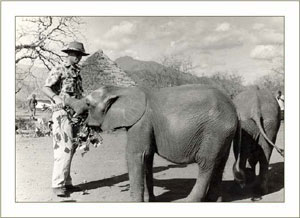 Almost exactly a month after Samson's arrival, another baby elephant, this time a female, was captured under similar circumstances at the Aruba Dam. She was named Fatuma, and it was Fatuma who taught David about the motherly and caring instincts of female elephants, irrespective of age, for Fatuma nurtured a strange assortment of orphans of different species, all smaller and younger than herself. Her great love, before more elephants joined the orphaned gang, was a mischievous bush-pig named Piglet, who became the bane of Samson's life, dashing out from beneath Fatuma's protective frame to nip Samson on the heels, and when faced with retribution, beating a hasty retreat back beneath Fatuma, where, of course, he was quite safe, and from where his mischievous little piggy eyes watched the resulting mayhem with undisguised delight! However, the presence of Piglet eventually became so disruptive to the elephants, that David had to pass him over to the then Warden of Nairobi National Park, Steve Ellis, who also came to find him such a handful that he handed the little rascal to Edinburgh Zoo.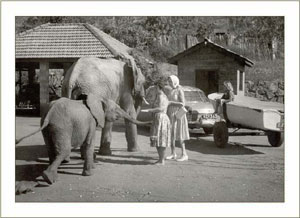 During the sixties, which was what David always termed "the learning decade", more orphaned drought orphans joined Samson and Fatuma. Another young bull named Kadenge came in from the lower reaches of the Voi river; then Aruba Dam yielded another female called Aruba and eventually the famous Samburu poaching victim, rescued by Bill Woodley in 1960 and named "Eleanor" after Lady Renison arrived. The Governor and his wife, Eleanor, had been present at the rescue of elephant Eleanor, who, at the express wish of the Governor, is the only elephant ever to have paced the grand gardens of what is now State House. Thereafter, having spent a miserable year as an exhibit in the Nairobi Park orphanage, Eleanor was allowed to come to Tsavo, following pressure from both David and Bill Woodley. She was spared the imprisonment that caused depression that would have taken her life. This elephant remained the famous Matriarch during what became known as three decades of "elephant holocaust", when, following the death of David Sheldrick, armed Somali poachers invaded the Park and reduced Tsavo's elephant population to a mere 6,000 terrified survivors. Amongst the casualties of those years were many of the other early orphans, notably "Bukanezi", (whose name means "the weak one") but who grew up to be a magnificent bull. He and 60 other wild elephants were felled by automatic gunfire within earshot of the Park Headquarters on the Voi River circuit.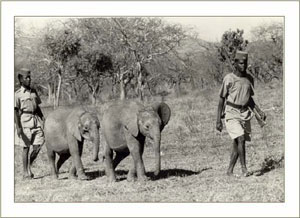 During all those years only orphans that were about 2 years and older who were not milk dependent, survived, whilst those younger who were fully milk dependent, died. The correct milk formula to raise the infants was not yet known, for elephant babies are intolerant of cows' milk, which was all that was then available, but Daphne Sheldrick never stopped trying, suffering immense heart-break and shedding copious tears when each and every one died. David tried to convince her that it was a waste of time to even try to raise the milk dependent infants, and that it would be kinder to euthenase them humanely, since their demise caused her such distress - but, she refused to give up and it was only in l974 that Daphne managed to keep a tiny infant from Marsabit, named "Aisha" alive for 6 months. She lost her when she had to substitute another "mother figure" and the elephant went into such a deep depression that she died. The death of Aisha is still a tragedy about which Daphne Sheldrick finds it hard to speak.
One day in 1964 Samson's female friend, Fatuma, left to join a wild herd, and never returned again. David was convinced that she had probably become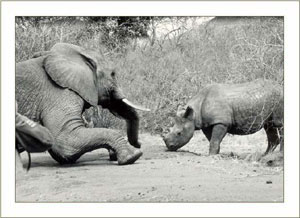 reunited with her former "family", for it is very unusual for a female elephant to voluntarily leave the younger members of the group and instantly attach itself to a wild herd, unless the members of that herd are known. Later still, we were privileged to actually witness such an event with a drought victim of the 70's named Sobo. She was with the other orphans at a natural waterhole below the Headquarters, when a wild herd approached from the opposite side. Sobo, who was about 4 years old at the time, instantly rumbled loudly, and trumpeting with joy, rushed across the pool in a cloud of spray to be enveloped by the entire herd with such an out-pouring of love that all onlookers were visibly moved. We never saw Sobo again. She went off happily with that herd, who were obviously ex family members, maybe sisters, brothers, aunts etc., since when she was rescued, she was standing forlornly beside her dead mother in the burning heat, desperately drawing reserves of water from her stomach to spray over her body.
The day that Fatuma left, Samson led the other orphans home, looking dejected and obviously upset, but he slotted into the role of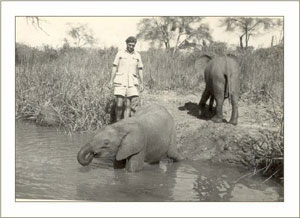 Leader gallantly until Eleanor took control and released him. His big friend was the orphaned rhino, Rufus, with whom he played on a daily basis, kneeling down to make the contest more even. Eventually, however, he took to spending the odd night away, then the odd week and eventually months, returning now and then, often with wild friends, who were not so compatible with humans, and posed a very real threat to all on foot. On one occasion Daphne emerged from the house to find Samson, who had been absent for many moons, towering over three year old Angela, touching her gently on the head with the tip of his trunk!
Several years then passed, and the next time David met up with him, he was deep inside the Park, dying. Suppurating poisoned arrow wounds on his flank were the tell-tale evidence of the reason for his condition. He was still young, in his mid twenties, and David said later that it the hardest and most difficult thing he had ever had to do, shoot a friend, but at least he was able to do one last favour for Samson – relieve suffering. (There is no antidote for the akokanthera arrow poison. The moment contact is made with the blood, the victim is doomed to die, like so many of Samson's kind, killed simply for a tooth so that some insensitive human in a far – off land can wear or display it as a trinket.